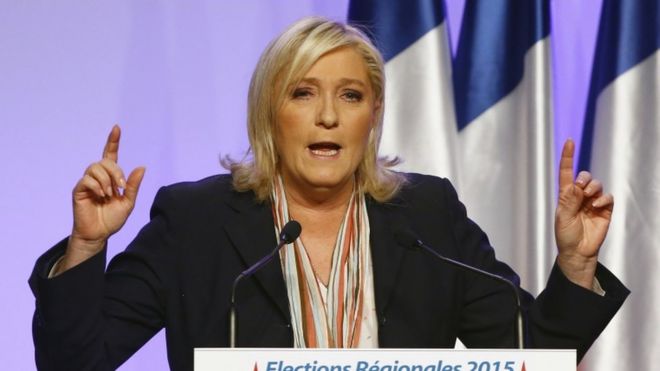 Ms Le Pen has sharply divided public opinion with her attacks on illegal immigration
The victory of Donald Trump in the US election and the Brexit camp's win in Britain have made 2016 a humbling year for political forecasters.

In France, few now will dare write off the prospects of the far-right candidate Marine Le Pen in next year's presidential election — even if the country's two-round electoral system makes it harder to pull off an upset.

It was no coincidence that Le Pen was one of the first political figures to congratulate Trump on his win.
"Congratulations to the new president of the United States Donald Trump and to the free American people," she tweeted over an hour before the election was called for the Republican.

The Vice-President of Le Pen's National Front (FN), Louis Aliot, hailed "Uncle Sam's giving the finger to an arrogant elite" and noted that the result coincided with the anniversary of the fall of the Berlin Wall.
"Today, the United States, tomorrow France. Bravo America!" Le Pen's father, FN founder Jean-Marie Le Pen, cheered.

In April, the French will begin voting for a leader who enjoys even greater executive powers than the US commander-in-chief, including the authority to send the country to war without parliamentary approval.
Polls currently show Le Pen making it past the first round to the May run-off among the top two vote-getters but then being defeated by the conservative candidate, widely expected to be former prime minister Alain Juppe.

But as the world reeled from the shock of Trump's win, voices on France's poltical left and right warned all bets were off.

"The boundaries of reason disappeared with Brexit. The main lesson for us in France is that Marine Le Pen can win," former prime minister Jean-Pierre Raffarin, a Juppe backer, said.

Another former prime minister, Dominique de Villepin, echoed that assessment, saying that "what is possible in the US is possible in France".

The left-wing Liberation daily said the US election meant "the world's biggest power is now in the hands of the far right" and called it "a further warning for those who think that Marine Le Pen cannot win power in France in 2017".

Rampant de-industrialisation, high unemployment, a wave of terrorist attacks and an influx of migrants have seen disillusioned voters decamp in their droves to the "French first" FN.

In echoes of Trump's 'Make America Great Again' or Brexit's 'Take Control' slogans, Le Pen has declared "the time of the nation state has come again".
"There's a global awakening," she told reporters at a party rally in September, where she bashed the EU, the euro and immigration.

As FN leader back in 2002, her father caused the biggest upset in French post-war political history when he reached the second round of the presidential election. —
AFP