Uniformed men escorted the Sharifs from the airplane soon after it touched down in Lahore.
Pakistan's
former Prime Minister who was arrested late on Friday has been shifted to Adiala jail in Rawalpindi, while his daughter Maryam Nawaz was sent to Seihala Rest House, declared as temporary sub-jail.
The Accountability Court, according to Geo News, has issued imprisonment warrants for former Prime Minister Nawaz Sharif and his daughter Maryam.
Sharif, along with Maryam, was arrested as they returned to eastern city of Lahore from London to serve a 10-year and seven-year jail term, respectively, on corruption charges, officials said.
Sharif, a three-time Prime Minister, and his daughter were in London to look after his ailing wife when an anti-graft court convicted them of corruption and handed down prison terms.
A National Accountability Bureau (NAB) team took Sharif and Maryam in its custody from the aircraft, while their passports were confiscated by officials of the Federal Investigation Agency (FIA).
Airport security official surrounded the Sharifs and led them to another plane to take them to a jail in Rawalpindi city near capital Islamabad.
Earlier, angry supporters of Pakistan Muslim League-Nawaz (PML-N), the party of Sharif, clashed with the riot police in Lahore, the capital city of Punjab province, when they were prevented from proceeding towards the airport to welcome their leader.
Police had blocked all roads to the airport to stop the PML-N activists and banned political gatherings.
Shahbaz Sharif, the younger brother of Nawaz Sharif, who now heads the PML-N, was leading the procession to the airport.
The Accountability Court, Pakistan's anti-corruption court, had ruled on July 6 that Nawaz Sharif owns assets beyond his income and concealed his property abroad.
The court imposed an 8-million pound penalty on Nawaz Sharif and a 2-million pound fine on Maryam Nawaz.
Sharif's son-in-law Mohammad Safdar was also awarded a one-year sentence.
On July 28, 2017, Sharif had to resign as Prime Minister after the Supreme Court disqualified him from holding any public office for concealing his earnings.
In April the apex court disqualified Sharif for lifetime from the parliament and also barred him from heading a political party.
-----
Ousted Pakistani Prime Minister Nawaz Sharif and his daughter Maryam were arrested on Friday after flying back to the country to face lengthy prison sentences, in a high-stakes gamble to galvanise their beleaguered party ahead of a July 25 election.
Uniformed men escorted the Sharifs, who were sentenced in absentia on corruption charges last week, from their airplane after it touched down in the central city of Lahore at around 8:45 p.m. (1645 GMT), a Reuters reporter on board said.
A spokesman for Sharif's Pakistan Muslim League-Nawaz (PML-N) party confirmed they were arrested soon afterwards. Local Geo TV said Sharif and his daughter were taken to another waiting aircraft to be flown out of Lahore, where more than 10,000 Sharif supporters were gathered to greet him.
Their return could shake up an election race marred by accusations Pakistan's powerful military is working behind the scenes to skew the contest in favour of ex-cricket hero Imran Khan, who describes Sharif as a "criminal" who deserves no support.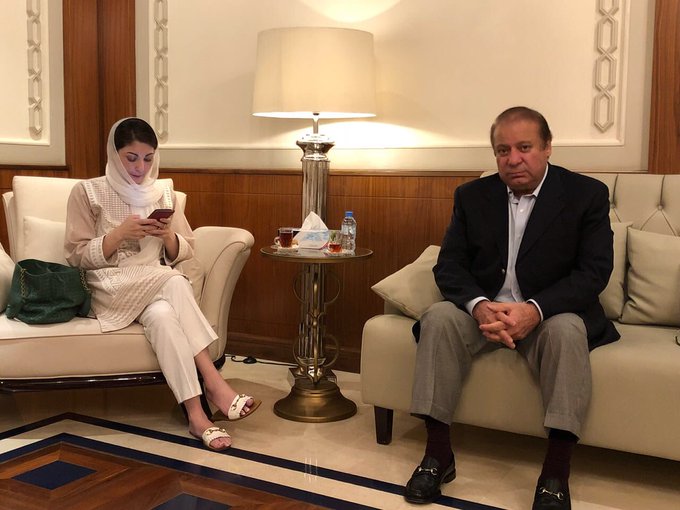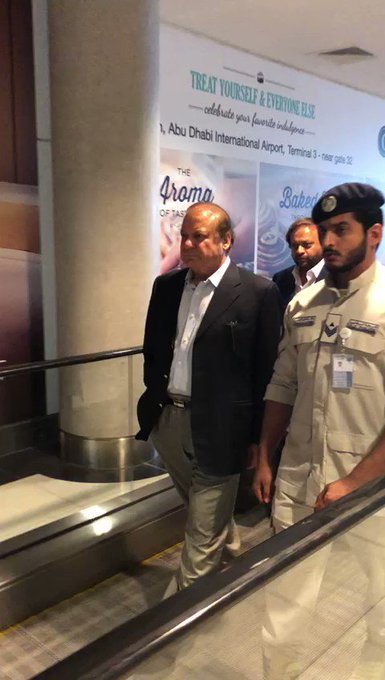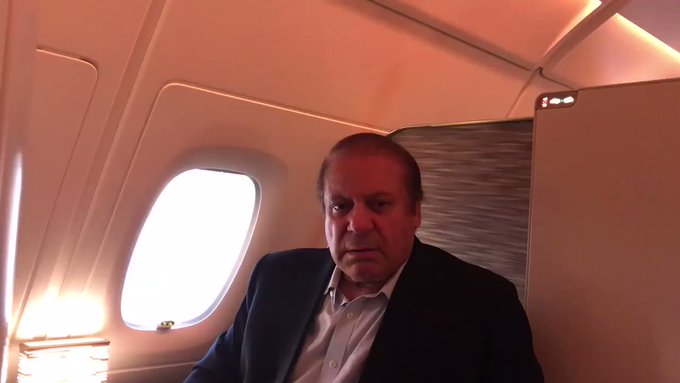 Clashes broke out Friday evening at the main highway entry point to Lahore between pro-Sharif protesters and police who had been deployed in their thousands, a Reuters witness said. There were no immediate reports of injuries.
Mobile phone service had been cut off in mid-afternoon, as Sharif's brother, Shehbaz, led around 10,000 party supporters on a march towards the city centre in defiance of a citywide ban on public gatherings, according to a Reuters witness.
Nawaz Sharif decried the tactics ordered by the caretaker government that took over in June ahead of the general election, as Pakistan's constitution requires.
"What credibility will these elections have when the government is taking such a drastic action against our people and this crackdown is taking place all over the country?" he told Reuters at the airport in Abu Dhabi as he waited for a connecting flight to Lahore.
Pakistan's third major political movement, the Pakistan Peoples Party, joined the criticism of the crackdown, with its prime ministerial candidate Bilawal Bhutto Zardari questioning why Sharif's supporters would be prevented from gathering.
"Why is Lahore under siege? Right to peaceful protest is fundamental for democracy," tweeted Bhutto Zardari, the son of two-time prime minister Benazir Bhutto, who was assassinated at a political rally in 2007.
The country's media regulator warned local news channels to abstain from airing statements "by political leadership containing defamatory and derogatory content targeting various state institutions specifically judiciary and armed forces", the regulator said in a statement.
Adding to the tension surrounding the upcoming poll, a suicide bomber hit an election rally of a regional party in southwestern Pakistan, killing 85 people. The bombing was the biggest attack in Pakistan in more than a year and the third incident of election-related violence this week.