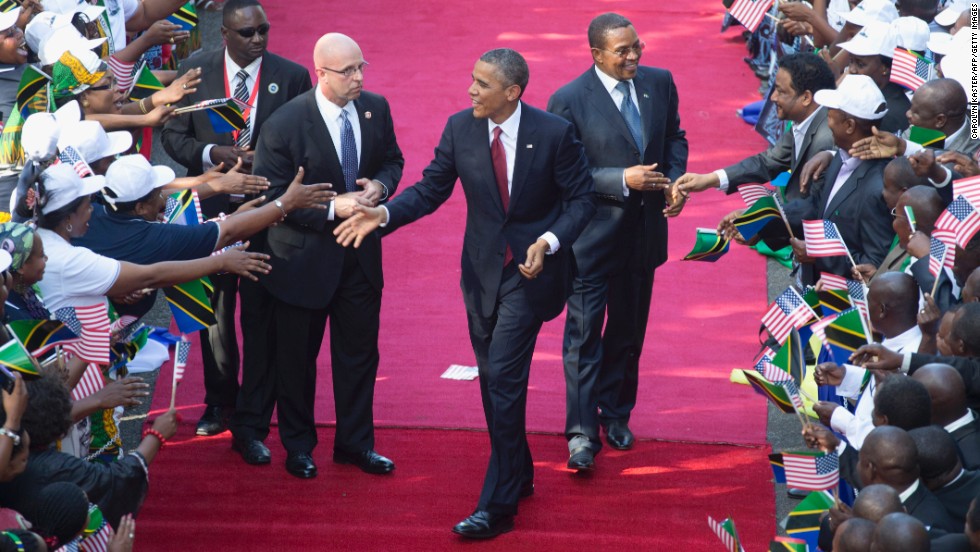 OBAMA IN TANZANIA IN 2013!
By Cyril Belaud — The dream becomes reality", "Our son, our hope": the headlines in the Kenyan press in 2008 captured pride and excitement after the election of Barack Obama.
There were widespread hopes that Obama would do much for Africa, but as he prepares to hand over to either Hillary Clinton or Donald Trump, he is accused of neglecting the continent. "Africa had unrealistic expectations towards Obama given his origins," said Aly-Khan Satchu, a Kenyan economic analyst.
"Especially during his first term, Obama was less involved in Africa" than his predecessor George W Bush.

"People judged him very harshly during his first mandate because he didn't do much for Africa," said Liesl Louw Vaudran, an analyst at the Pretoria-based Institute for Security Studies think-tank. "During his second term, I think he tried to address this issue and he did more for Africa," Satchu said.
Unlike George W Bush, whose PEPFAR programme has helped save the lives of millions of Africans with HIV/Aids, Obama has launched no transformative initiatives on the continent.
His 2013 'Power Africa' plan has fallen well short of its promise of doubling access to electricity in sub-Saharan Africa, generating just 400 MW of the 30,000 planned by 2030.

Obama's African appearances have been limited. There was a brief stopover in Ghana in 2009 — where he declared, "Africa doesn't need strongmen, it needs strong institutions" — and then a tour of Senegal, South Africa and Tanzania in 2013, followed by a visit to Ethiopia and Kenya in 2015. Security and counter-terrorism remained a key priority for US efforts.
Obama "expanded considerably the US military presence in Africa," said Achille Mbembe of South Africa's Wits Institute for Social and Economic Research. Nevertheless, success in the fight against extremist groups such as the Shabaab in Somalia and Boko Haram in Nigeria has been elusive.

African frustration with Obama has found resonance even in his own family, with half-brother Malik campaigning for Trump on Twitter. Malik's position is not, however the norm, and many Africans readily denounce Trump's views.
Neither Hillary Clinton nor Trump has made much mention of Africa in their election speeches, said J Peter Pham, director of the Africa Center at the Atlantic Council think-tank in Washington. "Africa largely does not figure into the electoral dynamics of the United States," said Pham. —
AFP